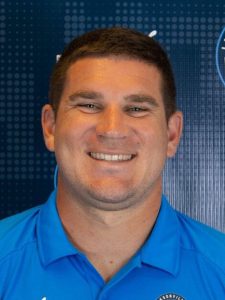 Tocoi Creek High School is excited to announce the hiring of Jay Shepherd as Head Girls Soccer Coach for the newest high school in St. Johns County Florida.
Coach Shepherd is originally from Houston, TX. but, moved to Jacksonville in 2003. He grew up in St. Johns county and was a graduate of Nease High School in 2009. Shepherd embraces the overall approach of "student before athlete" and will continue to hold his players to high expectations in the classroom while challenging them to be better every day on the field. During his time at Nease, he played for the men's' soccer program winning two FHSAA state championships in 2007 and 2008 and one FHSAA state runner up in 2009 for the Panthers. After high school, he went on to play soccer at DePauw University and finished his education at University of North Florida graduating with a degree in Educational Development. During his time at UNF, he helped found the men's club soccer program and now currently teaches at Patriot Oaks Academy here in St. Johns County, teaching middle school physical education.
Coach Shepherd has been coaching for Jacksonville FC for the last 8 years. During that time, he has coached girls' soccer serving as an Academy coach, a Pre ECNL coach, a NPL coach, an ECNLR coach, and an ECNL coach. His high school coaching experience began with the girls' soccer program at Nease High School and helping lead the program back to the FHSAA State Playoffs after a 7-year absence. He currently holds a United Soccer Coaches National diploma and Director of coaching diploma, and a USSF D coaching License.
In the interview process, Coach Shepherd spoke about setting goals, having honest conversations, allowing for team discussions, and that the players voice does matter to being key ingredients to the success of a team. His local ties make him familiar with the World Golf Village community and will help him set the new traditions and vision for "Toro" Soccer as we build this program for success in the future. He expressed that the challenges that lie ahead will only motivate he and his staff to prepare the players of TCHS for future success on and off the field.
TCHS Principal, Jay Willets shared, "that we are excited to have Coach Shepherd building the foundation for Toro Soccer for years to come. He will bring an exuberance that will be shown through the spirited play of the team and set an example in the classroom that all will want to reach for."
We are inviting all Tocoi Creek HS families to join us in the March 25th "Toro Pep Rally" beginning at 6pm in a zoom platform to hear more from Coach Shepherd and his vision for TCHS Soccer.