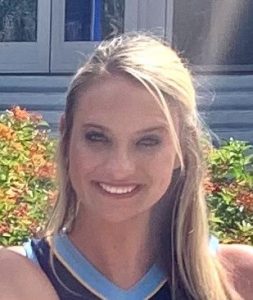 Tocoi Creek High School is excited to announce the hiring of Alaina Porcellini Teacher and Head Cheerleading Coach for the newest high school in St. Johns County Florida.
Ms. Porcellini is coming to TCHS after a two year stay at Nease HS where she taught English and Speech while also coaching the Pep and Competitive Cheerleading teams. She has been involved in sport all her life and began building her passion for cheerleading while at Bishop Moore HS and that passion carried on to Flagler College. During her high school years, she was a four-time State Champion and a National Champion in 2012 for the BMHS Hornets' cheer program. She then progressed to Flagler College, where she continued her love for cheer as a member of the team and had a chance to get involved in the community as an ambassador for the Saints. These opportunities opened the door to work with the Universal Cheerleaders Association for the past 8 years. Ms. Porcellini remarked in her interview that this opportunity gave her much insight into a different side of cheerleading and led her to have the privilege to work with countless numbers of high school cheerleading programs that gave her an understanding of different teams. Currently, she is a Head Instructor at UCA, where she not only works hands on with each team, but also with coaches and really gets to understand different programs through all of Florida. She credits working with UCA, with helping her to learn, grow as an instructor, and really understand all the aspects of coaching cheerleading. While leading the Panthers, Nease Cheerleading has not only grown on the competitive side, but also in game day cheerleading. The program was able to grow and build a family aspect. Ms. Porcellini said, "Cheerleading for me is not just about the competition, but it is also about the comradery and the family dynamic that comes with it. It is important to build the sideline and gameday aspect of cheerleading and then grow the competitive side from that." The Panthers placed 8th nationally at UCA in 2020 and have back to back top 4 finishes at the FHSAA State Competitive Cheer Competition in 2020 -21, both finishes set new school marks for the program.
In the interview process, Porcellini showed her excitement to start this journey with Tocoi Creek Cheerleading and to be the leaders of "spirit" for Tocoi Creek HS. Having the opportunity to start a new cheerleading program and establish school wide traditions that will enhance the overall TCHS student experience will be a challenge that she is looking forward to. "Cheerleading has always been a very important part of who I am, and I cannot wait to see what lies ahead for Tocoi Creek Cheerleading, get involved with the World Golf Village Community, and have this program moving in a positive, upward direction."
TCHS Principal, Jay Willets shared "We are truly excited to have Coach Porcellini's passion and talents for our inaugural cheer program. Her experience and focus on character development will be a valued addition to our TCHS community".
We are inviting all Tocoi Creek HS families to join us in the March 25th "Toro Pep Rally" beginning at 6pm in a zoom platform to hear more from Coach Porcellini and her vision for TCHS Cheerleading.