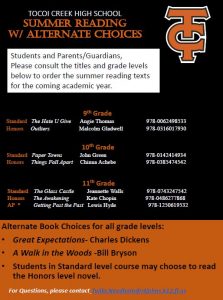 Students and Parents/Guardians,
Please consult the titles and grade levels provided in the TCHS Summer Reading Assignment to order the summer reading texts for the coming academic year.
After reading your selected texts, complete the TCHS Summer Reading Assignment Form by responding in complete, detailed sentences. All data sheets are due upon returning to school and will be used as an extra credit formative grade for the first quarter.  You can print out the form and complete it manually or you can make a copy of the sheet and complete it digitally.  In either case, a hard copy of the completed assignment will be collected beginning the first day of class throughout the first quarter.