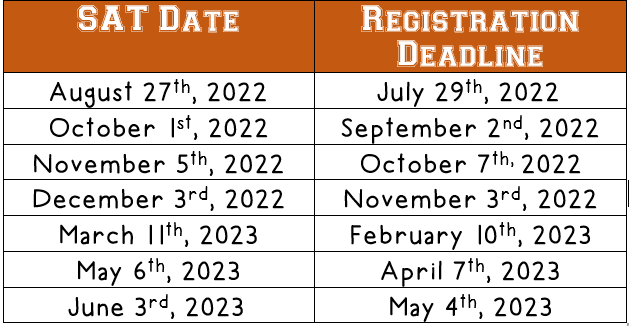 Please visit the CollegeBoard SAT Test Center website to find the closest location to you.
IN-SCHOOL SAT-NCR october 12, 2022 – 12th Grade Only
SAT Non-College Reportable Exam – 12th Grade ONLY
This test is for 12th grade students who have not met the FSA Grade 10 ELA and/or the Algebra 1 EOC graduation requirement.
The SAT-NCR will be offered at Tocoi Creek on Wednesday, October 12, 2022 to 12th graders ONLY.
The cost of the SAT-NCR exam is $60.00. Payment can be made via this link School Pay.
Payment is due by Friday, September 9, 2022.
Students who participate in this SAT-NCR experience will be granted accommodations (i.e extended time) in hopes that the extra time will give the student a better chance to acquire the necessary SAT English and Reading score of 480 to meet the FSA Grade 10 ELA graduations requirement and-or SAT math score of 420 to meet the Algebra 1 EOC graduation requirement.
Because these accommodations are not officially approved by College Board, results earned during a non-college reportable SAT administration cannot be used for admissions or scholarship purposes.
**Students with an IEP or 504 will not automatically receive accommodations. A signed consent form is required to start the process. Please complete the form below and return to the front office.